WonderGrove
In a partnership with Wonder Media Animation, Reflective Educational Research is studying the impacts of WonderGrove videos on students' social skills, adaptive behaviors, and life skills. Using an experimental research design, this is the first-ever empirical study conducted on the use and impacts of the WonderGrove Social Skills video library in traditional classroom settings. Working across a wide variety of first-grade classrooms over the 2021/2022 school year, this research illuminates how teachers use of media can positively impact students emerging social development.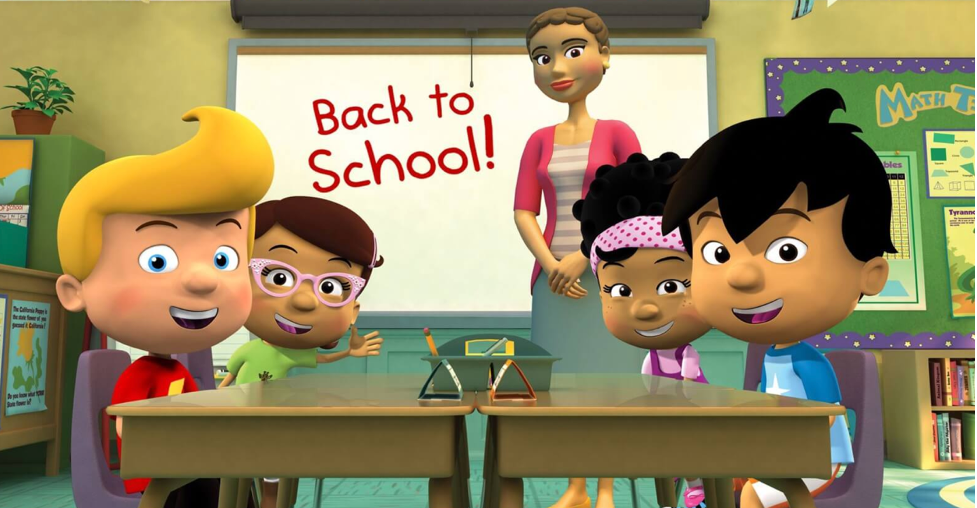 Methods and instrumentation
Over the beginning months of the 2021-2022 school year, approximately half of participating first-grade classrooms will be randomly selected for free access to the WonderGrove video library, while the remaining classrooms will remain unchanged. Using a pre/post methodology, a variety of instruments will measure potential changes in students' social skills, adaptive behaviors, and life skills in both WonderGrove and control group classrooms:
Student skills and behavioral assessments
Facilitated student survey focusing on experiences and beliefs
Teacher survey focusing on their experiences, beliefs, and time management regarding students' social skills, adaptive behavior, and life skills in the classroom
Optional teacher focus groups to provide further insight into the use and effectiveness of WonderGrove resources on student behavior and skills
In addition, both WonderGrove and control group classroom teachers will use the HoloTracker App to provide a real-time mechanism for teachers to efficiently catalogue a range of student behaviors. As such, HoloTracker provides the research study with a unique and powerful tool for the reliable capture of observational data around targeted student behaviors.
To find out more about how your school/classroom can participate in this Fall 2021 research study, please contact:
To learn more about WonderGrove please visit their website or watch Founder Terry Thoren's Ted Talk on the company's background and vision.
For more information about HoloTracker please visit their website here.
References & Resources
The following academic studies provide a background and context for our study of the role and impact of media on students social skills, adaptive behaviors, and life skills:
Anthony, C.J., Elliot, S.N., DiPerna, J.C., & Lei, P.-W. (2020). Multirater assessment of young children's social and emotional learning via the SSIS SEL Brief Scales – Preschool forms. Early Childhood Research Quarterly, 53, 625-637.
Bebell, D. & Pedulla, J. (2015). A Quantitative Investigation into the Impacts of 1:1 iPads on Early Learner's ELA and Math Achievement. Journal of Information Technology Education: Innovations in Practice, 14, 191-215.
Burback, S. (2020). Construct validity of the behavior assessment system for children-third edition teacher rating scales (BASC-3 TRS): Comparisons with the adjustment scales for children and adolescents (ASCA) [unpublished master's thesis]. Eastern Illinois University.
Caldarella, P., Christensen, L., Kramer, T.J., Kronmiller, K. (2009). Promoting social and emotional learning in second grade students: A study of the strong start curriculum. Early Childhood Education Journal, 37, 51-56.
Carroll, A., McCarthy, M., Houghton, S., O'Connor, E.S. (2020). Evaluating the effectiveness of KooLKIDS: An interactive social emotional learning program for Australian primary school children. Psychology in the Schools, 57(6), 851-867.
Child Trends. (2014, July). Measuring elementary school students' social and emotional skills. https://www.childtrends.org/wp-content/uploads/2014/08/2014-37CombinedMeasuresApproachandTablepdf1.pdf
DiPerna, J.C., Lei, P., Bellinger, J., & Cheng, W. (2014). Efficacy of the social skills improvement system – classwide intervention program (SSIS – CIP) in the primary grades. School Psychology Quarterly 30(1), 123-141.
Donaldson, J.M. & Vollmer, T.R. (2011). An evaluation of the good behavior game in kindergarten classrooms. Journal of Applied Behavior Analysis, 44(3), 605-609.
Ehret, P. (2020, September 22). Emotional ABCs accelerates social and emotional learning among first and second grade students. Emotional ABCs Evaluation.
Goodman, R. (1997). Strengths & Difficulties Questionnaire [Measurement instrument]. https://www.sdqinfo.org
Green, J.H., Passarelli, R., Smith-Millman, M.K., Wagers, K., Kalomiris, A.E., & Scott, M.N. (2019). A study of an adapted social–emotional learning: Small group curriculum in a school setting. Psychology in the Schools, 56(1), 109-125.
Lauricella, A. R., Howard Gola, A. A., & Calvert, S. L. (2011). Toddler's learning from socially meaningful video characters. Media Psychology, 14, 216-232.
Lynne, S., Radley, K.C., Dart, E.H., Tingstrom, D.H., Barry, C.T., & Lum, J.D.K. (2017). Use of a technology-enhanced version of the good behavior game in an elementary school setting. Psychology in the schools, 54(9), 1049-1063.
Massengale, L.R. (2016). The lived experiences of elementary students with disabilities self-advocating through speaking and writing [Doctoral dissertation, University of Central Florida]. STARS.
McKown, C. (2019). Challenges and opportunities in the applied assessment of student social and emotional learning. Educational Psychologist, 54(3), 205-221.
Merrell, K.W., Cohn, B.P., Tom, K.M. (2011). Development and validation of a teacher report measure for assessing social-emotional strengths of children and adolescents. School Psychology Review, 40(2), 226-241.
Raver, C.C., & Knitze, J. (2002). Ready to enter: What research tells policymakers about strategies to promote social and emotional school readiness among three- and four-year-old children: Policy paper n. 3. National Center for Children in Poverty.